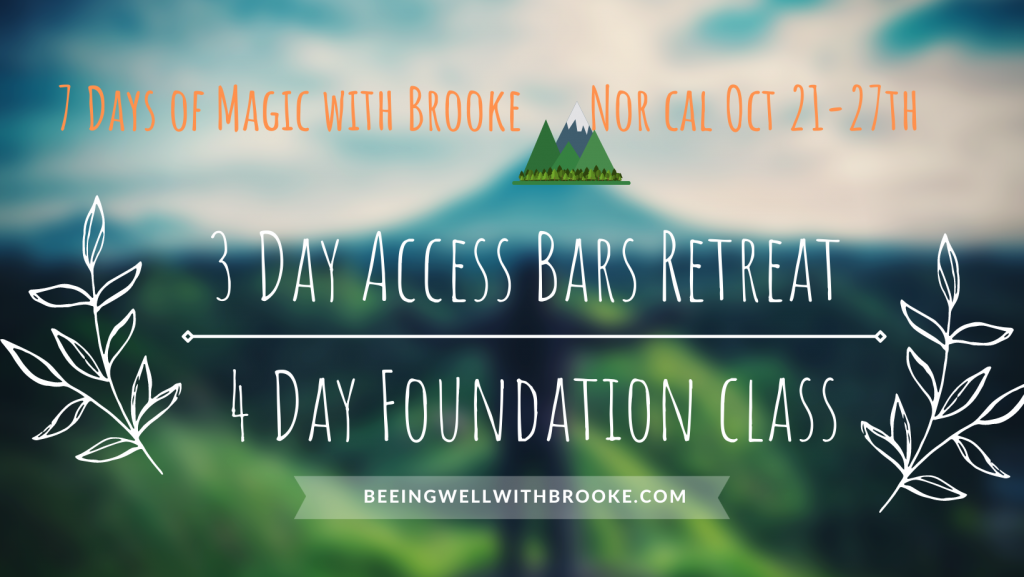 Join us in Shasta County for a REJUVENATION RETREAT like no other!!!🚵‍♀️
3 Day Access Bars Retreat Oct 21-23rd                 $700 (repeat price $525)
Day 1: Full day Access Bars Training: You will learn this amazing hands on healing technique ACCESS BARS; for releasing stress & anxiety, decluttering your mind and creating more ease in your body & health.  We will play with this energy medicine throughout the retreat. Brooke will guide you through this life changing process & support you in learning many other tools and processes that will create more ease with your body, mind & overall health.
Day 2 & 3: So many options are available:
Guided yoga & qi gong classes
Resting in the hammock, being nurtured and nourished…
Stand up paddle boarding at the lake… 5 min from the house
World class Mountain biking from the house…
Optional additional body work— massage, wellness consultations…
Each afternoon we will have a Bars Exchange: playing with the tools you acquired on day one.
Each evening we will experience sound healing, fire ceremony and other sweet shenanigans…
If you are really looking to rejuvenate and start creating your world from an entirely new space… continue with us for:
4 Day Foundation Class! Oct 24-27th                         $1600
Brooke will guide you on a journey beyond what you thought was possible…
We will stay at a mineral springs retreat space up at Mount Shasta… where we'll dive deep into unraveling the labyrinth of limitations in your life (health, relationships, money, business…) and create more fresh ways to step into your potency as a creator & magical being… You will begin to tap into your SUPER POWERS and build a new foundation, one of limitless possibility, so that you can create the life you truly desire to be living.
You can choose a 3 day, 4 day or 7 day retreat…
(The 4 day foundation has a prerequisite of taking an Access Bars Training)