Fall is the Vata time of year.
During these colder months of the year we focus on balancing the ether and air elements in our bodies.  Preventative medicine in the fall involves rehydrating and moisturizing our bodies to counter the dry qualities of fall. Apples are harvested in the fall and are an amazing antidote to the dryness of fall. Eat copious amounts of apples at this time of year. Fall is a great time to oil our bodies, both inside and out and eat lots of nourishing root vegetables and moist seasonal squash.
Fall is also a great time to cleanse our bodies. Check out the Beeing Well Ayurvedic Fall Cleanse.
Fall Recipes
Stewed Apples

Warm 1 TBS ghee in a pan. Cut up 1-2 apples, pears or peaches and place them in the warm ghee. Add 1 tsp cinnamon, 1 tsp cardamom, some grated ginger, a handful of raisins and some chopped nuts. Cover and allow to cook 5-10 min. If the fruit doesn't produce a bunch of juice in a few min add a little water and continue cooking.
Serve alone or over rice, quinoa or oats (raw or cooked)
Butternut Squash Soup
Choose two medium or one Large Butternut squash. Chop into small squares and steam in a large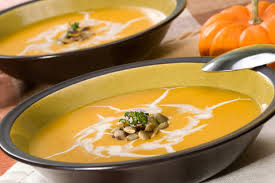 pot with a steam rack 10-15 min (until soft) Set aside to cool on a plate. Or bake face down in the oven for about 30 min then cool.
Sauté; 2-3 tbs Coconut Oil or Ghee with 1 tsp cumin, 1 tsp coriander, 1 tsp fennel, ½ tsp turmeric (seeds or powder) Add 1 Onion, 1-2 tbs Ginger and a few cloves of garlic.
Allow to sauté for around five minutes, and then add chopped carrots (2), celery (2-3 stocks) & one or more sweet potato, peeled and diced. Then add five or six cups of: Broth, Marrow soup or water with 1-2 cinnamon stix, 1 bay leaf, and 1-3 stix astragalus root (optional)
Once squash has cooled scrape peel off and add the vibrant squash to the soup and allow to cook for ~15 min.
Remove Cinnamon stix and in 2 or 3 batches send the soup through the blender and pour into a new pot once blended. Add salt and pepper and lemon to taste. I usually squeeze somewhere between ½-1 whole lemon. Garnish with chopped green onions or cilantro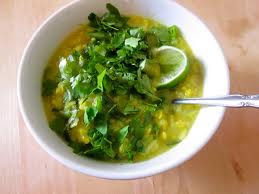 Carrot Raisin Salad
2 TBS raisins soak 10 min in warm water and drain. 2 med. Carrots washed and grated. 2 TBS raw sunflower seeds, 2 TBS shredded coconut, 2 TBS minced pineapple. Stir all ingredients together in a bowl.
Wisk together 1TBS fresh lemon juice, ½ tsp. raw honey, 1tsp grated ginger & 2TBS olive oil. Pour the dressing over the salad and mix well. Serve cool or room temp.
Almond Energy drink: builds energy, tissues and ojas
5 almonds, soaked and peeled, 2 medjool dates soaked, 1 cup organic milk (cow, soy or rice) 1/2 cup water, 1 tsp cinnamon, 1 tsp ginger, 1tsp cardamom, 1tsp fennel
In sauce pan bring milk to a boil, add almonds and dates, cook 5 min, and then add remaining ingredients. Allow to cool then blend until uniformly mixed, Drink while still warm.