Shasta County New Years Foundation Dec 29-Jan 1 2023
Foundation is like nothing you have experienced before!
Are you ready to spend 4 days with Brooke & Jen, rejuvenating your mind, your body and your soul? Clearing out whatever is limiting you from thriving in ANY area of your life; your health, finances, relationships… You will learn hands-on body processes and hundreds of other tools that you can start implementing in your life RIGHT NOW to create more ease, more joy and more possibilities in your world. You will receive a manual and you'll be encouraged to ask your questions and rejuvenate your body like never before.
I wonder how much magic we are ready to create??? Wanna join us on this amazing adventure???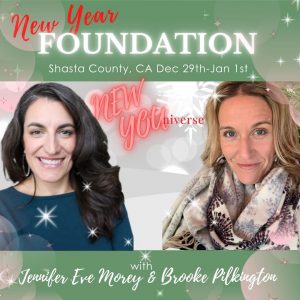 You can also  join us for an evening of Body Process Bliss Wed Dec 28th!
Optimize Your DNA + Boost Your Immune System (The RNA Process)
5:30 pm – 8:30 pm : Optimize Your DNA + Boost Your Immune System (The RNA Process)
During this evening class you'll gift and experience the processes and receive guidance and facilitation from Brooke on anything and everything that's showing up in your world. Is it time to boost your immunity & unlock the limitations and judgments in your body?
Ready join us for the full PARTY???